x. name = JackieLynn
x. birthday = 3/36/87
x. height = 5'3
x. hair color = blonde & brown
x. siblings = 2 sisters and 1 brother
x. pets = sugar glider named RoXXi, 3 small dogs Pepper, Tanner, Baby, 1 cat named Lucky, and 1 fish named Dalma
x. age = 17
x. bf or gf = i have a Boyfriend. His name is Stetson
x. you drink, drugs or smoke? = NO, I do not do any of those!

opinions...
x. premarital sex = I think you should wait till marriage, it makes things much more special.
x. gay/lesbian relationships = Its all about people falling in love. If that is what that person feels then so be it. I say let them do what they want... they can`t help who they fall in love with. If people don`t like it.. then stay away from it. They don`t have to MAKE it be a part of their lives also.
x. bush and kerry = I do not really like Bush, but the thought of Kerry being our president scared me. He didn`t have his opinion set on just ONE thing. He changed it to please other people and I don`t like that. He concentrating more on what is best for the world.. when all he needs to worry about is our own country.


Write us a short paragraph telling us a little about yourself:
I`m just like any other girl in a small town.. I like to hang out with my girl friends and I love being with my boyfriend. Stetson and I have been together for a year and 2 months. I love him to death! =) ..anyway.... At my school I am really involved in Media Technology. We have the only student ran T.V. station in South Texas. I am the Station Manager, Anchor, and Talk Show Host. OH.. and what I am really excited about it I am going to be interviewing Eva Longoria from the show Desperate House Wives. I also enjoy photography a whole bunch, so I am always taking pictures and making scrapbooks.

Who referred you to the community or how did you find out about it:
I was doing a search for Interests and the title caught my eye so I decided to give a go at it!

Why do you belong here?:
I belong here because I love to meet new people. I am extremely easy to talk to. I am very understanding and I am good at listening. I`m a fun person to be around. I love making people who are sad happy. Most of all... I just LOVE to talk! =)

Post a clear picture of yourself (min. of 3, max of 5):


I`m on the LEFT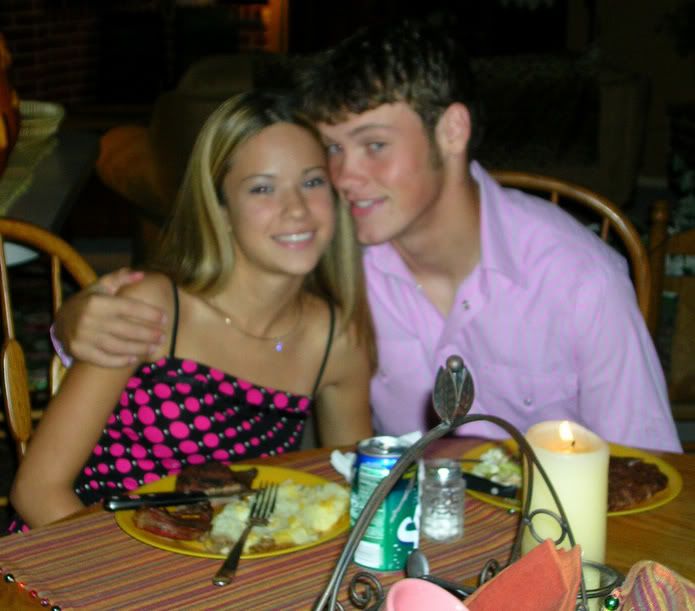 Me and my b/f Stetson



This is a goofy picture.. I look kinda funny.. lol.. but if ya`d like to know.. I was cracking up cause I sat down on some stickers.. they got stuck in my booty.. =( ..really hurt.. but it was funny @ the time!

Post a picture of the most important person/place/thing in your life, and tell us who/what/where it is and why its the most important thing to you:


The most important person in my life would by far be Stetson. No matter what I do to him, or say with regret.. He is always there for me. This past year was really hard on me and I took a lot of my anger out on him and he understood why and he helped me and stuck with me to get over it and fix things. He is my true best friend. I can tell him anything and trust him to keep his word. When I am down he is always there for me to make me smile. I spend most of my time helping other people out... and I love that he is there for me to help me out when no one else is. I can`t imagine not having him in my life. I guess what makes him so important to me is that he honestly loves me. . and I love him for that!